This is an invitation-only social event to introduce our 2018 seminar programme.
Who?
This is an invitation-only event for select
clients and professional connections.
Where?
Our prestigious office at
The Old Court House, 191 High Road
South Woodford, London, E18 2QF
When?
Tuesday 5th December
between 2pm and 5pm.
With the end of the year rapidly approaching, we are looking ahead and making plans for 2018.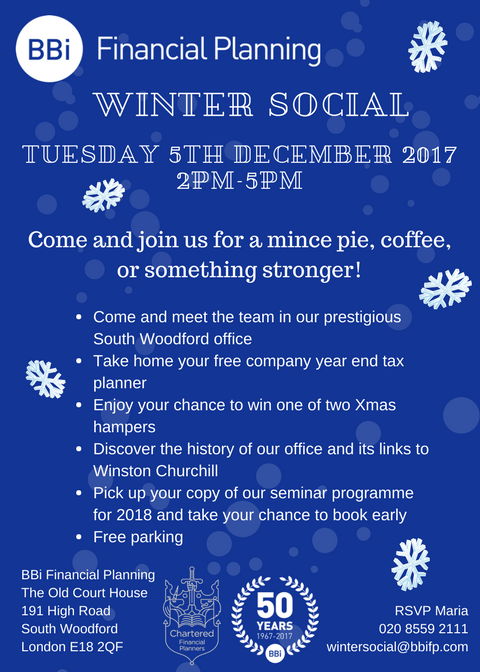 Next year we are looking forward to hosting a series of seminars in our prestigious South Woodford office.
Details are still being finalised but our first two events will take place on the 15th February 2018, and the 17th May 2018, so mark this in your calendar.
To introduce these seminars we are hosting a Winter Social at our offices on the 5th December 2017, from 2pm to 5pm.
We'll let you have some more details about our upcoming seminar topics, fill you with mince pies, and give you an end of year tax planner to take away.
You can also enter a price draw to win one of two Christmas hampers.
You can see more details in the flyer below, and you can download your own copy here.
We would love to see you there!
We have limited spaces so please RSVP as soon as possible to wintersocial@bbifp.com to let us know if you are coming.