How much will your state pension be?
Most working people in the UK will be eligible for the state pension eventually. How much you get and when will depend on your personal circumstances. You need to have contributed 35 years of full national insurance contributions to qualify for the full state pension, but you can find out how much you are entitled to, and how many years you need to contribute for, by requested a state pension forecast from the government.
It's a good idea to check this now for several reasons;
You can see your maximum entitlement
You can see your present entitlement, i.e. what will you get if you never work again
You can check your history of national insurance contributions. It will probably be correct, but if there anything seems wrong or incomplete, this is how you can find out
You can check when you are entitled to receive your state pension.
Together, all this information will help you understand more about your personal financial journey. You'll be able to find out where you will be financially when you come to retire, and then take this into account in your own financial plans.
So let's see how we can get a forecast.
If you already have an account with GOV.UK Verify, click here.
If you need to register for an account with GOV.UK Verify, click here.
Do you have an GOV.UK Verify account?
You will need to sign in to GOV.UK Verify to access your state pension forecast.
Like all government services, you start at the Gov.uk website here, https://www.gov.uk/check-state-pension, and click the green 'Start now' button.
Next you will need to confirm your identity. Obviously, the government doesn't want to give information about your state pension to just anybody!
If you already have a Government Gateway account, or are registered with GOV.UK Verify, you can sign in and get started.
From here you will be asked to select the company you have an account with. In this case I have set up my account with Royal Mail.
From here you will be redirected to the company you chose, and you can log in with your personal details. You will also need to enter a code sent to you registered phone number, but the code won't be sent automatically, so make sure you press the 'send code' button.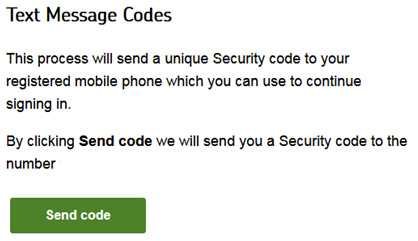 The next thing you see should be your state pension summary.
There's a lot more useful information on this page that just this number. Now you will also discover,
Your estimated weekly income based on your national Insurance record to the end of the last tax year.
Your forecast assuming you contribute for the remainder of the 35 required years (i.e. the maximum you can get).
Confirmation of your state pension age.
A link to display your entire national Insurance history.
Information about how contracting out may have affected this figure.
However, it's also important to remember that these details are based on current law. Governments can and will change so if you have some time to go before you retire, there's a good chance the pension calculation could have changed again. It pays to stay up to date.
Also, this figure does not include any increase due to inflation. State pension income currently increases every year, and this figure will change every year.
Register for a GOV.UK Verify Account
If you don't have one of these it's easy to sign up with GOV.UK Verify, and I've explained the steps to do this below.

If you haven't used this service before you will need to create your account by choosing the first option.
To use Verify you will need to be over 18 years old and have a UK address.
You will also need to supply and verify some personal information, so gather together documents like your driving licence, passport, bank statements, mortgage or rent information and so on.
Different companies will have slightly different requirements but to give you an idea, I worked through this process to create my own account and needed the following to register via Royal Mail;
My driving licence
My passport
My mortgage payment date
My bank account overdraft limit
My credit card spending limit
After this screen I was asked about my driving licence and passport. I have both, so I answered yes to all the questions.
On the next screen I selected Royal Mail from the following companies.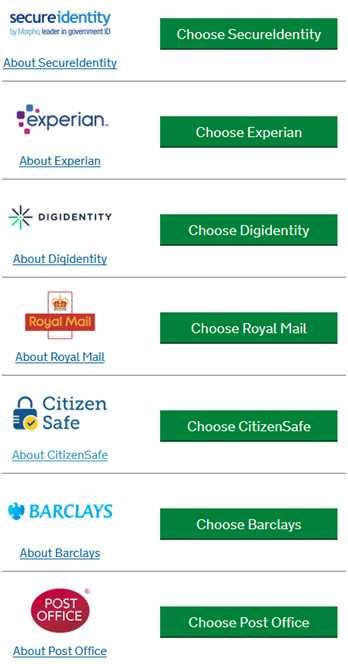 On the next screen you can confirm your choice before being redirected to the new website.
Once on the company website I first had to register my email address and a password. Make sure you keep a careful note of these so you can easily log in again in the future.
The next steps I had to go through were as follows;
Confirm my address
Add a mobile phone number to receive a secure code (This is called two-factor authentication, and means that no-one can log in to your account even if they know your username and password, they would also need your phone. Of course the downside is that you will always need your phone when you want to log in, which can sometimes be an inconvenience (when travelling abroad, for example, as I have discovered in the past first hand) but generally this is a small price to pay for better security.)
Next I had to confirm my identity. I could do this with one photo ID and two documents, or two photo IDs and one document. I used a bank statement, passport and driving licence to complete this part. Make sure your details match exactly, for example, if your passport shows your middle name make sure you fill this in or you won't be verified.
Some of the information will be pre-filled. For example, I chose to use a bank account to verify my ID and my banks were displayed in a drop-down box.
You get a couple of attempts with each form of ID before the system insists you use something else. For example, one of my bank account numbers was rejected twice and I had to use a different account. I don't know why.
After this, I had to answer some security questions. These are based on information you will have from the paperwork you gathered earlier. You will be asked things such as 'How much do you pay for your mortgage?' or 'How much is your current account overdraft?' In each case you will be able to choose from several options, e.g. 'Under £100', 'Between £100 and £500', 'Between £500 and £750' or 'I don't know'. All you have to do is choose the one that matches the answer. You won't be asked for the exact figures.
I didn't know the answer to two questions so it asked me another.
This whole process was very simple to follow. None of the questions are complicated or detailed, so as long as you have your financial information to hand this will only take you a few minutes. You can save your progress and resume later if you do need to find some information you don't have.
Once I had completed the steps above I was immediately verified and taken back to login at GOV.UK Verify.
Now I was able to login with the email address and password I chose earlier, and I received another security code on my phone.
I was almost there, but then Royal Mail said they need to verify the email address I used. You may have received something similar in the past where you get an email then click the link to prove the account is yours. (In this case I received the email, but I was verified in the background before I clicked the link.)
Now you've created your account, go back to the top or log in.
Check your state pension here: https://www.gov.uk/check-state-pension