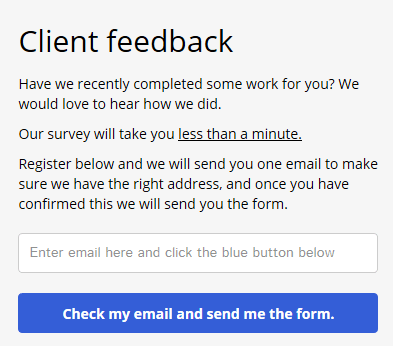 Feedback from our clients is a valuable and important part of our relationship.
Clearly we only ever want to hear good things, but the bad is important too. We're not perfect, although we try to be.
For ten years we have been sending these forms in the post with policy documents and over the last year we have been experimenting with online forms too, which are now a more popular option than using paper.
For 2019 we've made a couple of tweaks to the feedback questions to make it quicker and easier to complete. Our goal is to hear what you have to say with the minimum disruption to your day.
In fact, you can complete the new forms in seconds!
Our new feedback forms are delivered by email, and you can get one by entering your email address on our feedback page. (www.bbifp.com/feedback)
We'll start including these in any letters we send from 1st January 2019, but if you have some feedback we'd love to hear it.
If you're interested in the feedback we've received over the last ten years then we've written about this here.)